The lockdown in Mumbai has only slowed down the spread of the coronavirus in our cities, not eradicated it. As restrictions relax, please stay safe and travel only if necessary.
The world is changing dramatically, and with it, our habits are changing too. Working from home, sanitising ourselves several times a day have become the new normal. As travel restrictions slowly ease in our city, some of us are faced with the big question of how to commute safely.
Over the lockdown period, we have been working to implement the best standards of safety and hygiene for daily commute.
Cityflo Protect, our safety protocol, is a product of mapping our customer journey carefully, and following the best safety standards at each step to minimise any transmission risk. These measures have been certified by a NABL accredited lab and are in accordance with government guidelines. Read more on What matters most in safety certifications.
To get a brief overview of Cityflo Protect, keep reading.

When you decide to travel for work, we want to be sure you are stepping into an environment that is clean and hygienic. We have partnered with a professional agency that is responsible for a thorough cleaning and disinfection of the bus. Not a single Cityflo bus leaves for its trip without an inspection.
Disinfection of buses before every trip
Buses are sanitised before every trip using a FDA approved disinfectant. We've also removed all curtains in the bus as a precautionary measure.
Daily driver temperature checks
Only drivers with a normal temperature are permitted to drive.

Contactless booking
All bookings are cashless and over the Cityflo app.
Self declaration of passengers' health status
Bookings will be allowed only after passengers report their status over the app.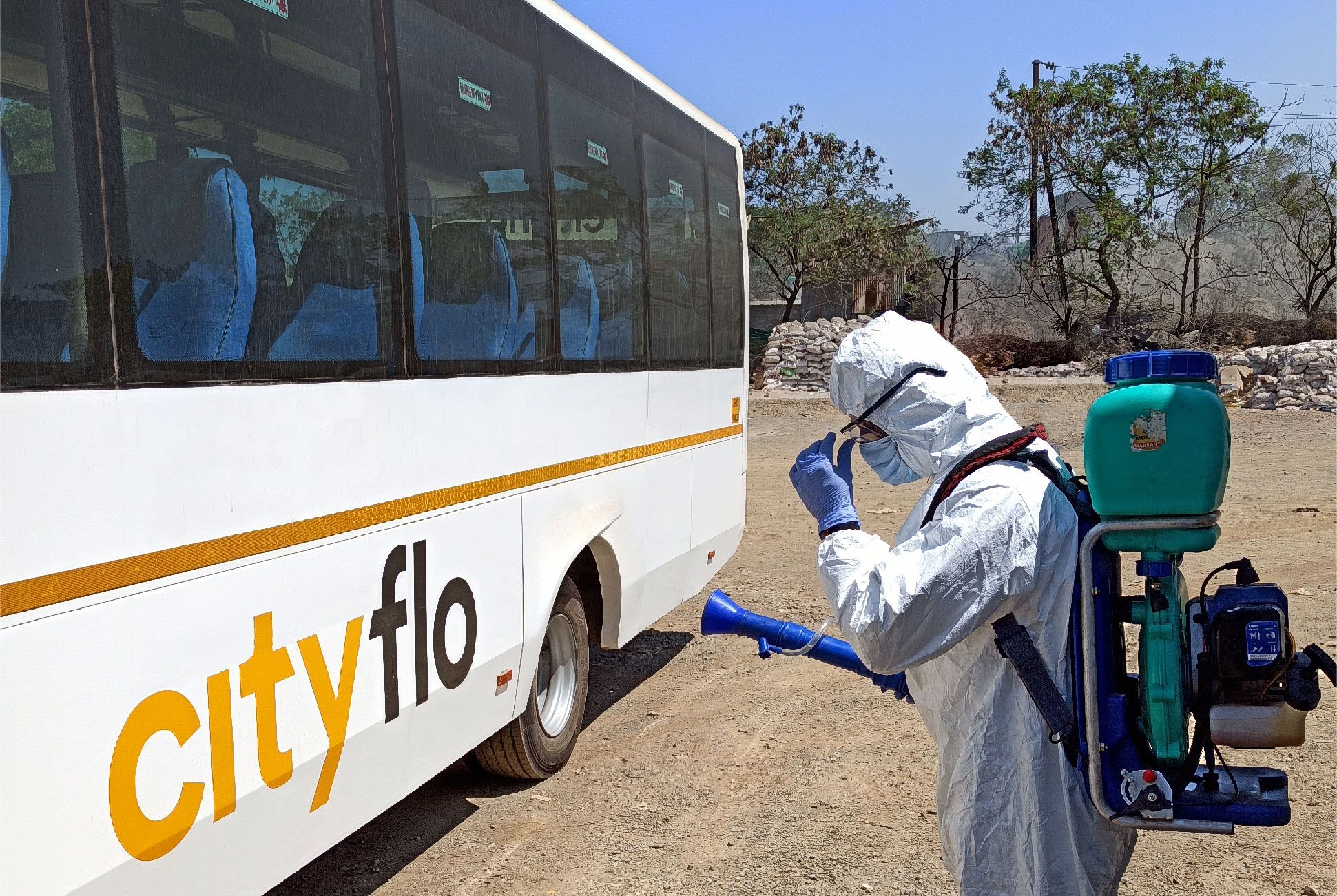 Alternate seating for physical distancing
We will accept bookings only for half the seats on the bus.
Temperature checks for every passenger
Only drivers with a normal temperature are permitted to ride

Mandatory face masks for passengers and drivers
Passengers not wearing masks will not be allowed to enter the bus.

Hand Sanitisers
Hand sanitiser are installed at the bus entrance to disinfect yourself.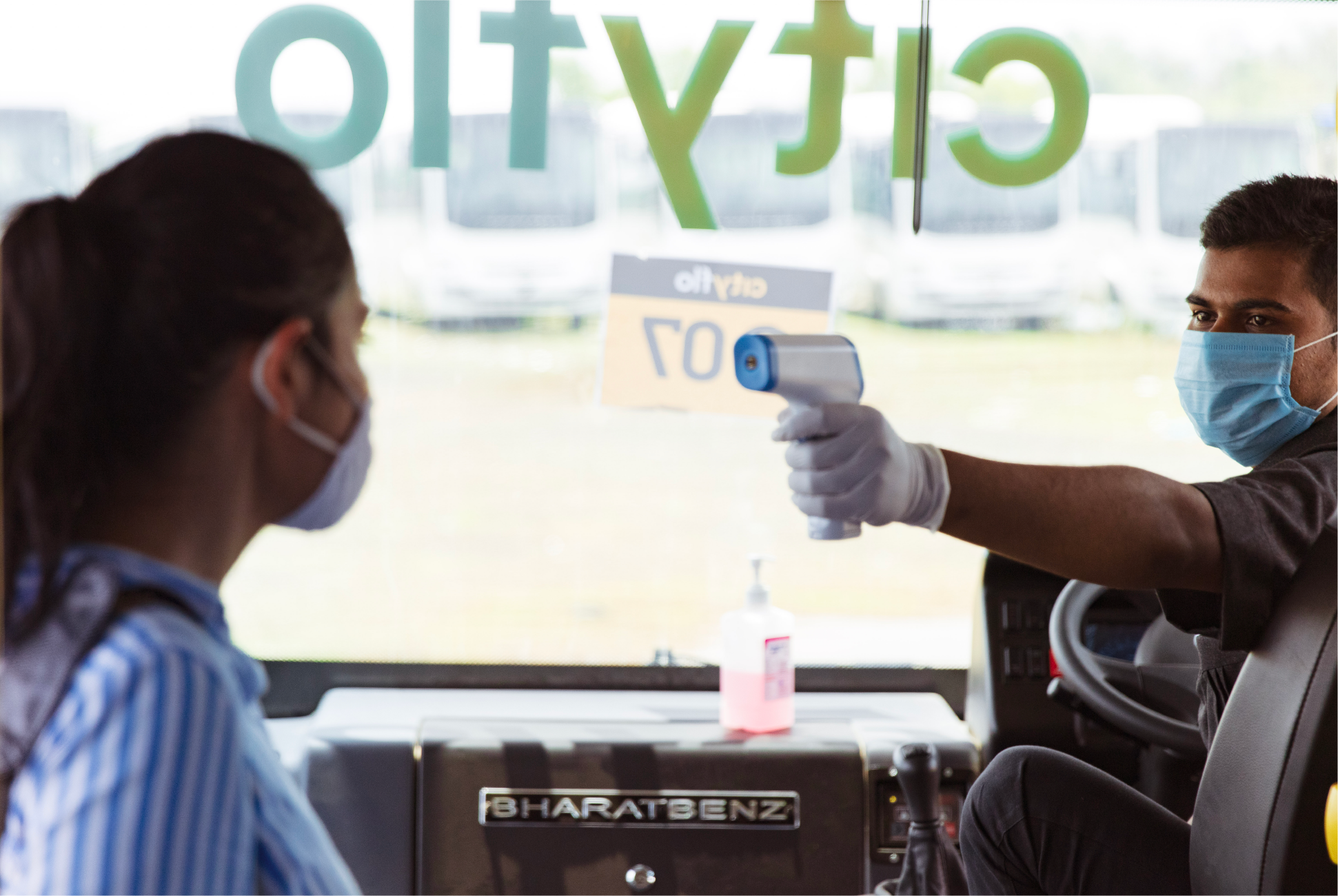 From driving you to office and being responsible for our safety, they play a pivotal role in our safety process. To effectively deliver safety, our drivers have undergone training in personal hygiene and maintaining safety in our buses.

Aarogya Setu App
Aarogya Setu app will set up for each driver to keep check if they come in contact with someone they shouldn't. If they do, however, they'll be taken off duty.

Medical insurance
We have issued medical insurances for all our drivers that cover COVID - 19.

Safety kits
All drivers carry a safety kit containing gloves, masks, sanitisers, cleaning equipment and a first aid box.
Training
Our drivers are trained in the best practices of safety and personal hygiene.


Safety is a team sport and you are a big part of it. Here are guidelines we recommend to keep you and the people you travel with safe:
It is mandatory to wear a mask for the duration of your ride.
When you board the bus, please do so patiently and maintain at least 6 feet distance with your co-passengers.
Get your temperature checked by the driver at the bus entrance. Commuters with a high temperature will not be permitted to travel.
Please use sanitisers at the bus entrance to disinfect yourself before taking a seat.
Follow an alternate seating pattern in the bus, as per the markings on seats
Download the Aarogya Setu app so you can be alerted in case you come in contact with someone you shouldn't.
If you have fever, cough or difficulty breathing, skip traveling and seek medical attention.

Certified as a 'Safe Way to Travel'

We're happy to share that we've been certified as a 'Safe Way to Travel' by Equinox Labs, a NABL accredited laboratory, after having our processes inspected and evaluated against approved safety standards. They also conduct hygiene audits for each Cityflo trip, so that we can be assured that all safety practices are being followed without exception.
We understand we're in uncharted territory here, and are making no compromises when it comes to the safety of our community. Once again, I urge you to stay safe and travel only if necessary. As for our protocol, if you'd think we can do more, please shoot us an email at support@cityflo.com and we'll be glad to hear you out.
For more information visit www.cityflo.com/protect.html
For latest updates follow us on https://www.instagram.com/cityflo.ind/