Last weekend, I sat down to write about Cityflo's journey to getting a certification for being a 'Safe Way to Travel'. For some reason, however, it did not seem to capture everything I wanted to share with you. Until now, that is. I realised it was just as important, if not more, to tell you why we did it.
How safe are our customers really?
Helping customers commute safely in a pandemic is an important responsibility. Mapping the passenger journey carefully, and researching measures that mitigate transmission risk are good first steps. However, when the stakes are as high as the safety of our community, we don't like taking chances.
That's why we partnered with a professional cleaning agency that handles the disinfection of our buses with expertise. And that's why we brought in Equinox Labs, a leading testing and auditing lab (FSSAI, NABL accredited) to vet our safety protocol, Cityflo Protect. After extensive research and input from safety experts, they built a set of safety standards, against which our practices have been evaluated.
That's good, yes, but still not quite enough, because...
Safety is a consistency game.
Our habits need to change drastically in this new normal, and that takes work. Keeping Cityflo safe takes work. 'Giving safety instructions to our drivers, passengers' is  not good enough.
To make every trip safe, maintaining personal safety and safety on the bus needed to become second nature to us. Our teams and drivers have been extensively trained through videos, safety-themed quizzes and role-playing as customers on our bus.
Equinox Labs audits our safety measures daily, so we can be sure we're delivering the best safety standards every single day.
The biggest driver
Auditing and certifying our safety measures are a small part of what makes Cityflo a safe way to travel. Tomorrow, many other mobility companies will get certified. We hope they do, for the safety of our community.
It is, however, the intent of an organisation and its team that is really the difference maker. Last week we got this feedback from a customer, who is pregnant: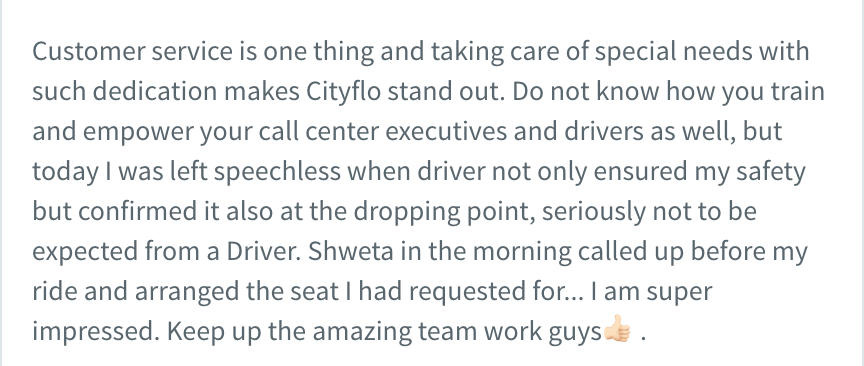 What I love most about this feedback is how everyone on the team took it upon themselves to make sure Kavita was okay, even when no one else was watching.
What sets Cityflo apart is not the fact that we're the first mobility company to get our safety measures certified. The difference is that we care. A lot.
Read more about Cityflo's safety measures here.